The Speaker's Chair
Hong Kong protests flare whilst PRC—UK tension rises
Meanwhile, Taiwan and Trump congratulate Clack
3 July 2019
Dark mode
Tagged: Foreign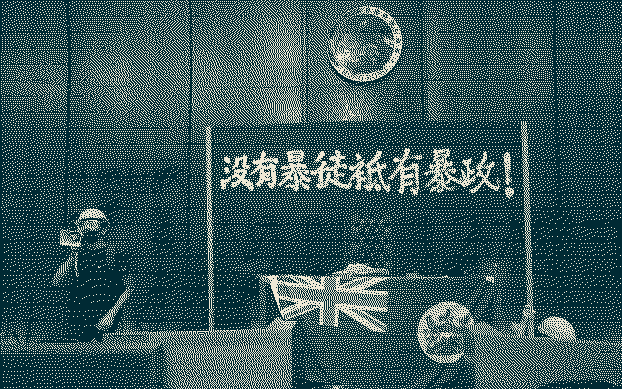 Protesters in Hong Kong hoist a British colonial flag inside the territory's Legislative Council.
HONG KONG — As protests against the pro-Beijing government continue in Hong Kong, the Chinese government has enacted a policy of not allowing those with British National (Overseas) (BNO) passports to travel from Hong Kong to elsewhere in China. The decision, widely interpreted as retaliation for the British government's enactment of policies critical of the Chinese government, comes soon before the British National (Overseas) Act is set to come into force, allowing those with BNO passports to live and work in the United Kingdom. In response to a request for comment, Bonnie Carmichael-Chow, author of the legislation, stated:
At a time when most of the world is capitulating to China's increasingly brazen tactics and succumbing to its authoritarian influence, the protesters in Hong Kong are putting the entire Western world to shame. They have continued to persist and grow in number even as their efforts seem increasingly hopeless, determined to see the retraction of the extradition bill or die with the city they love. And the Chinese government, in continually lashing out and avoiding any form of accommodation, has laid bare the underlying nature of its assimilatory and hegemonic policies that undermine basic respect for human and civil rights.
Foreign Secretary (name) has remained silent on the protests, despite calls for a response from the government. He did not respond to a request for comment.
Donald Trump praised the government's actions against China on Twitter, calling Nicky Clack "President of England" and expressing that he was "proud of [Clack] and his government for standing up to China". Joseph Wu, Taiwanese Minister of Foreign Affairs, stated in an interview with CTV News that he was pleased with the British government's stance against the Chinese government, and hoped that this was the first step to full recognition of the country.
← Back to home